"I think it was just a mouse!"
This article is a stub. Please help the FNaF: Sister Location Wiki by expanding it.
Thank you!
Sister Location really took a step up from the original games, and featured professional voice acting. This is the list of voice actors starring in the game.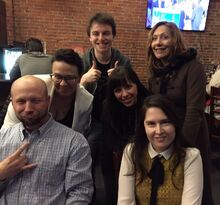 Animatronic's Voice Actor
Heather Masters: Circus Baby & Ennard
Zehra Jane Naqvi: BidyBab, The Daughter, Ennard
Brenda Joan Wong: Minireena 2 (Uncredited)
Cutscenes Voice Actors
PJ Heywood: William Afton (Opening Cutscene), Michael Afton (Michael Afton Cutscenes)
Julie Shields: Female Computer Voice
Bob Barnes: The Immortal and The Restless Narrator
Ad blocker interference detected!
Wikia is a free-to-use site that makes money from advertising. We have a modified experience for viewers using ad blockers

Wikia is not accessible if you've made further modifications. Remove the custom ad blocker rule(s) and the page will load as expected.